A tech savvy trip to Kasargod
It has been a long time I travelled along with a number of friends. Yesterday I had been to Kasargod for attending Widad's Marriage party. Widad was my senior at MEC and passed out last april. She is a nice friend of mine and an amazing techie during the college. Of course she is an FOSS savvy girl. Her husband Jemshad is a Yahoo and well known geek. We friends were making fun out of him thinking what would be his chat status during marriage. We guessed it would be 'brb' :D. But widad commented mostly it is 'afk'. It was fun.
Six friends of mine from MEC boarded in Mavel express on Saturday night 11.30 pm. Srijith, Cyriac, Cijo, Rathin, Sadhashiv and Neelakandan were the guyz. Neelakandan and Sadhashiv had only general compartment tickets and they didn't get the reservation. But altogether they had 5 reservation tickets. So they requested TTR to make some adjustment, but he didn't allow them. Finally Neelakandan was out of reservation list and he became inside general compartment. I boarded into the train from Mahe. A few hours later Neelakandan came to the reservation compartment. Everyone expected him to burst out against Sadahashiv for leaving him alone at general compartment. But unluckly it didn't happen. He spoke like a Brand Ambassador of general compartment that it was a fine inside general compartment. When the train approached Kangangad, we realised that Cheif Minister of Kerala, V.S Achuthananthan was there in our train. We went to Govt guest house straight way from kasargod station. But the policemen at the guest house questioned us like a culprit since Chief Minister was going to have the accomodation there. Widad arranged us some other hotel and went there. Rathin had brought his laptop. He was worried about his mini project about Wireless networks. Srijith and I decided to hack on the Network Manager, though we failed to find some intersting bytes. BTW, Cijo was hacking with bash for a while.
We guys spent few hours at the marriage party. Met a good number of xmecians. We were having great fun altogether. It was a geek company and I enjoyed the with everyone. Srijith, Cyriac, Rathin, Cijo and I are from computer science and we belong to MACS(MEC's Association of Computer Students), being the organisers of FOSSMEET @ MEC we were in search of 'freedom images'. After the marriage party, we had an hour journey to Bakel forte, which is a famous tourist destination. I didn't my camera being lazy and since we have our Photographer (Cyraic) with us.
Bakel
We took a couple of photographs which portraits the natural beauty of the coast. When we were in the beach, I suggested to photograph FOSSMEET written on the sand. Cyraic's face lit up saying our hunt for the 'freedom' photograph is over. We wrote and photograped FOSS @ MEC on the sand. it looked very great and its going to be put on FOSSMEET website header.
Scribing FOSSMEET
We set back to railway station from Bakel fort around 5 pm. We reached the station few seconds before the train leave. Of course, that was a narrow escape. Neel, Sadhashiv and I took in the general compartment and Wowed ! There was lots of free seats. We talked a lot about MEC and Free and Open Source Software during the journey. Sadhashiv and Neel was maintaining the funny elements all over the journey.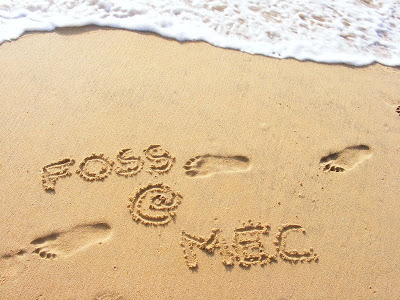 FOSSMEET banner
I enjoyed the entire day well.
Note: Photography courtesy to Cyriac Chittuthara